SOUTHAMPTON, England, Feb. 14, 2023 /PRNewswire/ — Online trading is a challenging and complex landscape, where traders require a sturdy support system to conduct their market activities smoothly. By associating with helpful customer support, traders can not only pass through all complexities but also gain confidence regarding the viability of the service provider. In light of this understanding, Invest Ecapitals has come forward with a client-centric upgrade, announcing 24-hour support on business days. With this step, the brand sets its sights on delivering the best possible experience to market enthusiasts.
"It's an established fact that navigating the realm of financial trading can be a complex and demanding endeavor, even for the veterans," explained Christoph Reinspach, Invest Ecapitals Spokesperson. "Addressing this aspect, we now offer round-the-clock support for our clients during business days, ensuring their complete ease and leaving no room for inconvenience. From technical difficulties to general inquiries and pressing emergencies, our agents are on hand to provide swift and effective solutions to our members."
A trading platform emphasizing user ease
Invest Ecapitals is an online trading service where users can access a wide spectrum of financial assets, from currency pairs to shares and indices, alongside sophisticated tools amid reliable conditions. The broker consolidates fast funding methods, competitive fees, and transparent facilities, hence establishing a fully client-centric environment.
"Invest Ecapitals is a dynamic trading space established upon the steadfast pillars of trustworthiness, exceptional quality, and unyielding transparency," added Reinspach. "With our clients at the forefront of our mind, we have meticulously developed a one-stop destination with all the necessary tools and trading products to extend a seamless user experience. Further, we plan to keep enhancing our services and sustain everything up to that standard, so as to not let our users fall behind in the ever-evolving trading arena."
About Invest Ecapitals
Invest Ecapitals is a reliable brokerage platform with robust security, high transparency, and optimized trading tools, efficiently crafted for market players. The brand includes multiple trading instruments and a feature-rich trading platform, with the goal of maintaining a satisfying experience for all users. The broker also assimilates multiple account types and a dedicated customer support service, empowering its members to trade with ease and flexibility. To summarize, Invest Ecapitals is a reputable name in the brokerage industry thanks to its detailed trading system and high-technology services, suitable for every kind of trader.
Website: https://invest-ecapitals.com/
View original content:https://www.prnewswire.co.uk/news-releases/invest-ecapitals-boosts-customer-service-with-24-hours-assistance-on-business-days-301746573.html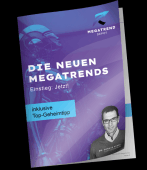 Kostenloser Report: Das sind die neuen Megatrends