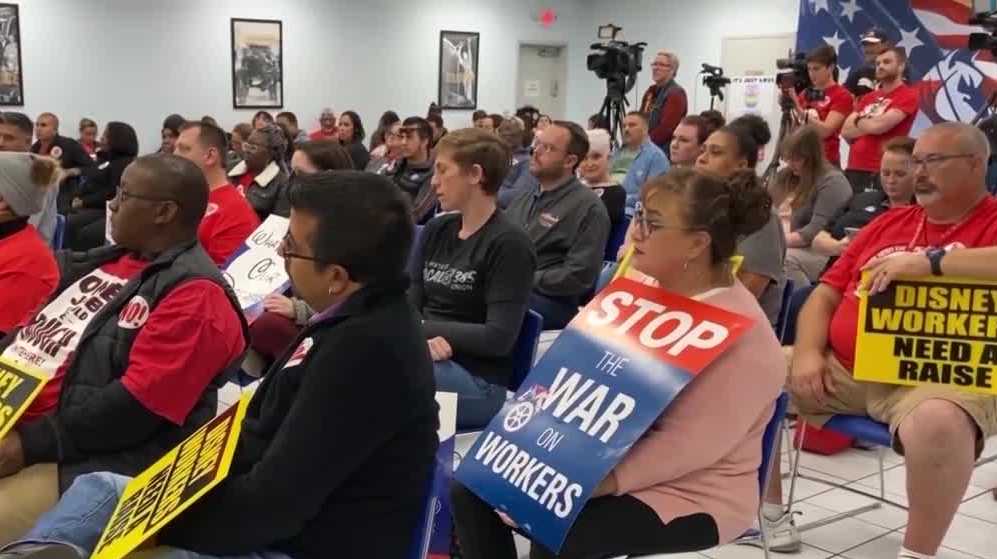 Unions representing Disney workers will be back at the negotiating table Wednesday."Just nerve-racking. I don't know but I'm feeling hopeful. I have to feel hopeful," Nicholas Maldonado said about negotiations continuing. He's been with the Walt Disney Company since 2018 and works in merchandising. He's counting on a raise. "Just enough for us to sustain ourselves to make ends meet. Because right now, it's becoming so unaffordable," Maldonado said. Maldonado said with the rise in rent and food prices, he and his wife can't get by on their own. But he loves what he does. "So many are saying, 'Oh, get a new job.' No. I am going to fight for my job. I'm going to fight because I love magic making every day but it's struggling to still ask my parents for food money, for rent money, and also many other bills," Maldonado said.The president of Unite Here Local 362, Eric Clinton, said negotiations with Disney have been going on for months. Members rejected Disney's most recent offer. "Disney's best offer would have gotten people to $20 an hour but not until five years from now," Clinton said. WESH 2 reached out to Disney on Tuesday for comment but didn't hear back. In a previous statement to WESH 2, before the offer was rejected, Disney said: "This very strong offer provides our cast members with a nearly 10% average increase immediately and guaranteed raises for the next four years with every single non-tipped cast member promised at least a $20 starting wage during the contract, and the majority seeing a 33% to 46% increase during that time."They'll be back at the negotiating table Wednesday. "All we're asking for is that one job should be enough," Clinton said. "You shouldn't have to go out and work a second job."Clinton said they're set for discussions Wednesday morning. Whether or not that will result in something they'll bring to their members for a vote, he couldn't say.Other top headlines:Woman dies after being run over by forklift in Volusia CountyPolice: Palm Bay councilman charged with DUI, cocaine possession after trying to outrun officers2 brothers arrested and charged with murder in Orange County shooting
LAKE BUENA VISTA, Fla. —
Unions representing Disney workers will be back at the negotiating table Wednesday.
"Just nerve-racking. I don't know but I'm feeling hopeful. I have to feel hopeful," Nicholas Maldonado said about negotiations continuing.
He's been with the Walt Disney Company since 2018 and works in merchandising. He's counting on a raise.
"Just enough for us to sustain ourselves to make ends meet. Because right now, it's becoming so unaffordable," Maldonado said.
Maldonado said with the rise in rent and food prices, he and his wife can't get by on their own. But he loves what he does.
"So many are saying, 'Oh, get a new job.' No. I am going to fight for my job. I'm going to fight because I love magic making every day but it's struggling to still ask my parents for food money, for rent money, and also many other bills," Maldonado said.
The president of Unite Here Local 362, Eric Clinton, said negotiations with Disney have been going on for months. Members rejected Disney's most recent offer.
"Disney's best offer would have gotten people to $20 an hour but not until five years from now," Clinton said.
WESH 2 reached out to Disney on Tuesday for comment but didn't hear back.
In a previous statement to WESH 2, before the offer was rejected, Disney said: "This very strong offer provides our cast members with a nearly 10% average increase immediately and guaranteed raises for the next four years with every single non-tipped cast member promised at least a $20 starting wage during the contract, and the majority seeing a 33% to 46% increase during that time."
They'll be back at the negotiating table Wednesday.
"All we're asking for is that one job should be enough," Clinton said. "You shouldn't have to go out and work a second job."
Clinton said they're set for discussions Wednesday morning. Whether or not that will result in something they'll bring to their members for a vote, he couldn't say.
Other top headlines: