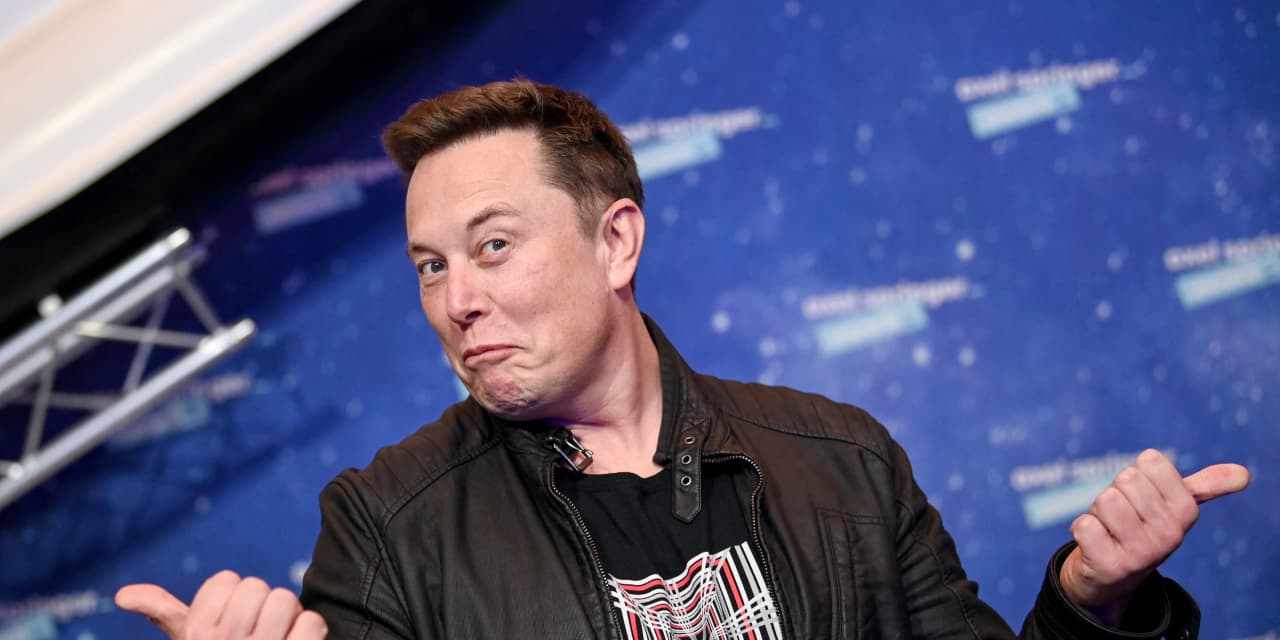 Tesla Inc.'s objectives are similar whether Elon Musk's company is playing for the short run or the long run, and that's a key advantage for its stock, according to a Barclays analyst.
Dan Levy of Barclays initiated coverage of Tesla shares
TSLA,
+1.51%
with an overweight rating and $275 price target Tuesday, writing that the company "stands out" according to his "two clocks" framework, which measures how companies balance cyclical near-term pressures alongside long-term secular goals.
Unlike traditional car makers that must determine how to weigh current demand for internal-combustion engine (ICE) vehicles against the long-term opportunity in electric vehicles, "Tesla is by and large managing to 'one clock,'" Levy wrote.
Although the company does have to consider its various clocks when determining how to prioritize spending on artificial-intelligence and related technology, Levy sees Tesla as being in an advantageous position in terms of its day-to-day business.
"Every Model 3 or Y [that] Tesla sells today not only benefits its near-term financials, but also furthers its long-term objectives, as those vehicles will remain critical to the product lineup, and will be the basis for other future models," Levy wrote.
Also read: Elon Musk to unveil Tesla's 'Master Plan 3' on investor day — here's what to expect
Another company similarly managing to just "one-clock" is Mobileye Global Inc.
MBLY,
-1.15%,
Levy said, as he initiated coverage of that stock at overweight and set a $60 price target. The company, spun out of Intel Corp.
INTC,
-0.65%
in October, makes autonomous-driving technologies.
"[T]he EyeQ chips it sells into active safety systems today will be the basis for future product in more advanced driver assist and autonomous driving features," Levy wrote. "Simply, each EyeQ chip sold lays the groundwork for future Mobileye products."
Ford Motor Co.
F,
-1.50%
and General Motors Co.
GM,
+0.05%
face a greater challenge, however.
"Indeed, while the sale of high-profit ICE trucks today will help to fund long-term growth initiatives, there is nevertheless a dilemma as the sale of ICE vehicles today does not further the long-term objective of selling EVs," Levy wrote. "We believe this balancing act will be a key challenge for Ford and GM through the decade."
While Levy acknowledged that GM has made compelling efforts to "right-size" its business and Ford has "improved its positioning in the transition," there could be issues ahead for the companies.
For one, "given Tesla's cost lead and ability to cut prices, Ford may be challenged to gain share while seeing reasonable margins on EVs if Tesla continues to cut price, and also while facing competition from players such as GM, Rivian and others," he wrote.
Levy started coverage of both GM and Ford at equal-weight Tuesday.