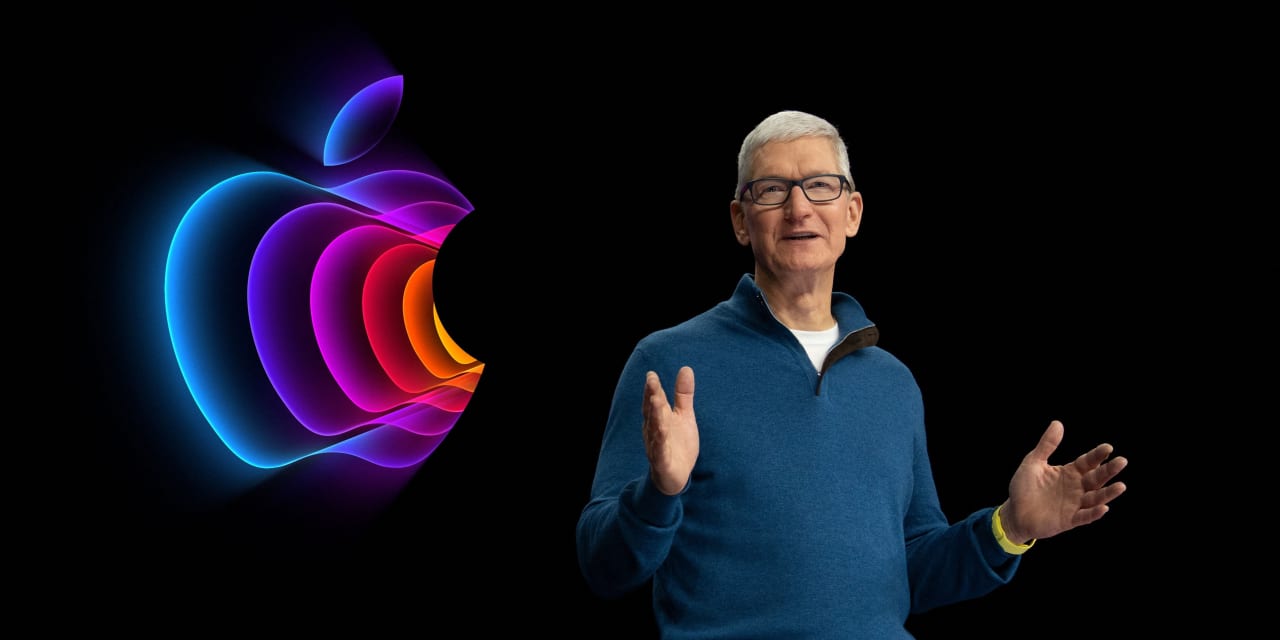 The market capitalization of Apple Inc. has surpassed that of the entire Russell 2000 for two weeks, the longest stretch on record, according to Bloomberg data.
Apple's market capitalization, which measures how much the company is worth based on the value of all its outstanding stock, surpassed that of the Russell 2000
RUT,
+1.18%
on April 27 and has held higher through Monday. The only other time that occurred was Sept. 1, 2020, when Apple's valuation passed that of the small-cap index for only a day.
Apple's premium over this group of small-cap stocks continued to widen over the past two weeks as the consumer-technology giant reported earnings that surpassed Wall Street analysts' expectations.
With a market capitalization of roughly $2.7 trillion, Apple is now worth roughly $100 billion more than the combined value of all 2,000 stocks in the Russell 2000, according to Bloomberg data shared with MarketWatch.
To be sure, the gap narrowed somewhat on Monday as Apple shares declined by 0.4% to $171.80, while the Russell 2000 gained 1.3% to trade at 1,763.
A team of stock-market analysts from Bespoke Investment Group illustrated the trend in a chart shared on Twitter Monday.
U.S. equity benchmarks have powered higher in 2023, but some say the strength in popular indexs like the S&P 500 and Nasdaq Composite has masked weakness in other corners of the market.
Both the S&P 500, which has risen more than 7% year-to-date, and the Nasdaq Composite, which has risen nearly 18%, owe the bulk of their gains to a handful of megacap technology stocks including Apple, Microsoft Corp.
MSFT,
+0.16%,
Alphabet Inc.
GOOG,
-0.81%
and Nvidia Corp.
NVDA,
+2.16%
The top 10 stocks in the S&P 500 hold a 29% weight in the index, and have been responsible for around 70% of its year-to-date performance gains, according to a MarketWatch report from last week.
See: The S&P 500 is top-heavy with tech. Here's what that says about future stock-market returns.
The Russell 2000, meanwhile, is essentially unchanged since the start of 2023. Apple, by comparison, has risen more than 32% since Jan. 1, according to FactSet data. The relative weakness in small-caps has inspired discussion about whether this might be a buying opportunity, as market strategists told Barron's.
See: Small-Cap Stocks Have Been Crushed. 3 With Big Potential.
Small-caps have struggled against a plethora of headwinds since the start of 2023. Shrinking corporate earnings, a string of regional-bank failures and signs of a looming recession have taken a heavy toll. Facing so much uncertainty, equity investors have sought safety in shares of megacap technology names this year following a punishing selloff in 2022.
"It is pretty incredible that one company could overtake an entire universe of small-cap stocks in terms of size," said Callie Cox, U.S. equity strategist at eToro, during a phone interview with MarketWatch. "To me, it really speaks to how beaten down small-caps are."
When Apple reported earnings for the quarter ended in March last week, the company's management revealed a surprise growth in its iPhone business, which helped to overcoming a shortfall in Mac revenue. The company also promised investors billions more in dividends and stock repurchases, which helped to boost the stock price. Apple's shares traded higher in response.