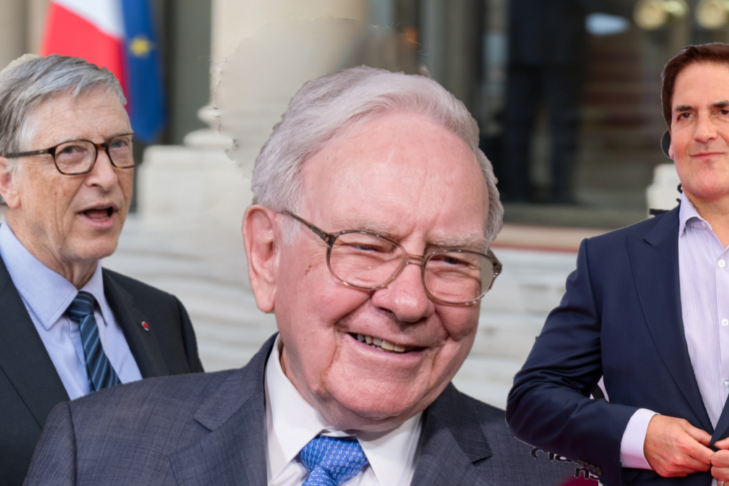 Envision a world where billionaires Bill Gates, Warren Buffett and Mark Cuban must start from scratch. Despite having achieved immense success, what would they do if they lost everything they had worked for? These accomplished billionaires reveal what they would do if they suddenly had to start over. 
Don't Miss: Why Jason Calacanis and Other Silicon Valley Elites Are Betting On This Startups Vision For Re-Uniting American Families
Gates, who dropped out of Harvard University to co-found Microsoft Corp., shared his thoughts during a Facebook Live event in 2017. Gates said he would focus on artificial intelligence (AI), energy or biology if he had to start again. Even years ago, he believed that the innovations in AI would be "phenomenal" and that clean, cheap energy is a priority. As for biology, Gates was convinced that the coming generations would solve problems related to obesity, cancer and depression.
Buffett, an iconic investor, said he would still choose to become an investor if he were starting over today. Buffett said he began reading about investing as a child, and it has remained fascinating to him. He advises everyone to find their purpose and to seek the job they would do even if they didn't need to work. Buffett believes that "sleepwalking through life" is a mistake and that people should pursue their passions.
Both Gates and Buffett are confident that they could succeed again if they lost everything. Even if they couldn't reach the same level of wealth they have today, they have faith in their abilities. 
Entrepreneur Cuban believes that he could become a multimillionaire again if he lost everything. He's not sure he could achieve billionaire status, but multimillionaire is doable. Cuban said in an episode of the podcast "How I Built This" that he would start by getting two jobs, as a bartender at night and a salesperson during the day.
To stay updated with top startup news & investments, sign up for Benzinga's Startup Investing & Equity Crowdfunding Newsletter
While success is never guaranteed, these billionaires believe that they have what it takes to succeed again, even if they lost everything.
Investing in the Next Generation of Entrepreneurs 
While Buffett, Gates, and Cuban aren't starting over, there are hundreds of entrepreneurs building the next generation of technology in many of the fields these billionaires said they would start over in. Platforms like StartEngine allow anyone to invest in top startups in these new and growing industries before they hit the stock market, including investing in StartEngine itself. For example, investors looking to invest in AI startups, AtomBeam is a top raise on StartEngine using artificial intelligence to compact data by up to 75%.
See more on startup investing from Benzinga.