In the dynamic world of digital currencies, a paradigm shift is underway. The dawn of cloud mining has introduced a new way to mine cryptocurrencies, offering a more accessible and economically feasible solution. Amid this evolution, one platform stands out by redefining the standards of cryptocurrency mining: Gbitcoins. With its global reach, diverse user base, and unwavering focus on profitability, Gbitcoins is leading the way in transforming the approach to cryptocurrency mining.
Understanding Cloud Mining
Before learning more about Gbitcoins, it is essential to understand what cloud mining is and how it works. Cloud mining is a process wherein Bitcoin or other cryptocurrencies are mined using a remote data center with shared processing power. This model allows individuals to mine cryptocurrencies without managing the hardware directly.
Traditional mining requires the miner to own, operate, and maintain expensive physical hardware. These machines, paired with their significant energy consumption, can make mining a financially challenging endeavor. Cloud mining overcomes these obstacles, allowing users to rent part of the mining hardware and start mining immediately. This model democratizes the mining process, making it accessible to a wide array of individuals, regardless of their technical skills or financial capabilities.
How Does Cloud Mining Compare To Traditional Mining?
Traditional mining, also known as hardware mining, involves a significant investment in time, money, and technical knowledge. As mentioned, one needs to buy, set up, and manage their own mining hardware, which can be an expensive and daunting task. In addition, the high energy consumption of traditional mining can lead to exorbitant electricity bills.
Alternatively, cloud mining offers a number of distinct advantages. First and foremost, it eliminates the need for upfront hardware costs. As the mining equipment is hosted in remote data centers, users are free from the burden of managing hardware and dealing with high energy costs. Furthermore, cloud mining is accessible to anyone with an internet connection, breaking down barriers to entry and making cryptocurrency mining a more inclusive endeavor.
What is Gbitcoins?
Founded in 2016, Gbitcoins emerged as one of the first companies to provide cloud mining services, ushering in a new era in the world of cryptocurrency mining. With a vision of democratizing access to the latest technology and large industrial data centers, Gbitcoins is dedicated to ensuring that everyone can benefit from cloud mining, whether they're using a laptop or mobile phone.
Today, after years of continuous development and innovation, Gbitcoins proudly operates five mining farms across the globe, serving members in more than 200 countries and regions. The platform has won the trust of over 490,000 users worldwide, a testament to its reliability, efficiency, and commitment to user satisfaction.
Why Choose Gbitcoins?
When contemplating a platform for cloud mining, one question comes to mind: why should Gbitcoins be the choice? The answer lies in the unique features and benefits it offers:
Shorter Package Cycles
Unlike other platforms where investments can be locked for extended periods, Gbitcoins provides shorter package cycles. This flexibility allows users to enjoy quicker returns on their investments, enhancing the overall user experience.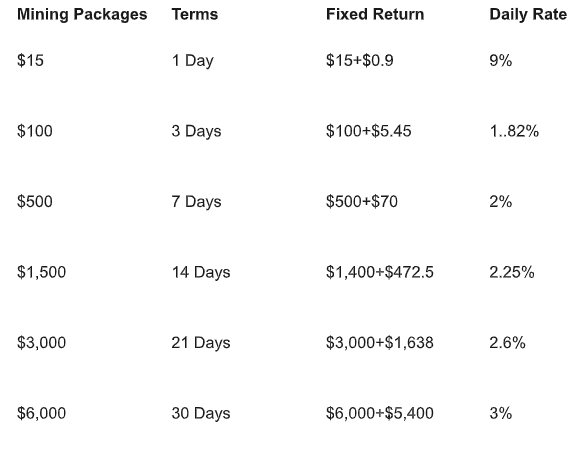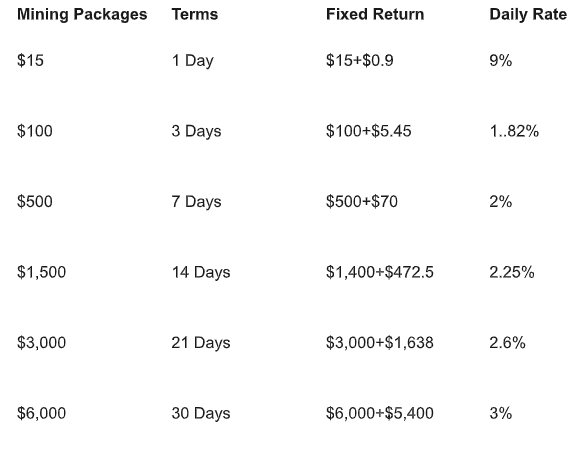 Higher Profits
Gbitcoins ensures its users enjoy higher profits compared to traditional mining methods. The platform leverages advanced algorithms and cutting-edge hardware to maximize mining efficiency, which translates to better returns for users.
Expert Team
Backing Gbitcoins is a formidable team of experts with years of experience in cryptocurrency, blockchain technology, and financial services. Their expertise ensures that the platform stays ahead of the curve, offering users the most efficient and profitable mining opportunities.
A Diverse User Base
Gbitcoins is proud to serve a diverse user base spread across the globe. This diversity not only speaks volumes about the platform's reliability but also fosters a global community of like-minded individuals sharing their experiences and insights, thereby enhancing the platform's collective knowledge and strength.
Project Income and Profit
Gbitcoins is transparent about its project income and profit, providing users with a clear understanding of their potential earnings. This transparency instills confidence in users, knowing that there are no hidden charges or unaccounted costs.
The Invite Friends Plan
A unique feature of Gbitcoins is the "Invite Friends" plan. This program allows users to earn passive income without any investment, just by inviting their friends to join the platform. This initiative provides an additional stream of revenue, making Gbitcoins an even more attractive option for cloud mining enthusiasts.
In Summary: The Gbitcoins Advantage
In the vast sea of cloud mining platforms, Gbitcoins stands out. With a user-friendly interface, shorter package cycles, and higher profit margins, it has quickly become the go-to platform for both beginners and seasoned miners alike. The platform's unwavering commitment to transparency and its robust 'Invite Friends' plan further strengthen its position as a leader in the industry.
Moreover, Gbitcoins is backed by a strong team of experts, ensuring the platform remains at the forefront of the latest technological advancements. This expertise, coupled with a diverse user base from around the world, creates a unique and profitable cloud mining ecosystem.
Gbitcoins' Commitment to Transparency
In an industry where transparency is of utmost importance, Gbitcoins set a high standard. It provides clear visibility of its project income and profit, ensuring users can make well-informed decisions about their investments. This openness helps build trust and confidence in the platform, creating an environment where users can feel secure about their investments.
Gbitcoins fully understands the potential risks involved in cryptocurrency mining and takes every necessary step to mitigate them. It maintains strict security protocols and leverages state-of-the-art technologies to protect users' data and funds. By prioritizing security and transparency, Gbitcoins is not just a platform for cryptocurrency mining—it's a partner you can trust in your cryptocurrency journey.
Setting Sail on a Profitable Journey with Gbitcoins
At the end of the day, the landscape of cryptocurrency mining can be complex, involving numerous factors. Traditional mining has its share of challenges, from expensive hardware to high energy costs. However, the advent of cloud mining has revolutionized this arena, providing a far more accessible and cost-effective way to mine cryptocurrencies.
Gbitcoins, with its unique features and benefits, stands out as a distinguished platform in this sector. By choosing Gbitcoins, users are not only opting for a cloud mining platform but are also becoming part of a dynamic, global community that's at the forefront of digital currency mining.
With Gbitcoins, the complexities of cryptocurrency mining are simplified, opening the door to lucrative opportunities. So, whether you're an experienced miner or a newcomer to the field, Gbitcoins equips you with the tools, resources, and community to guide you on a profitable journey in the world of cryptocurrency mining. The future of digital currency is here, and with Gbitcoins, you're ready to be a part of it.