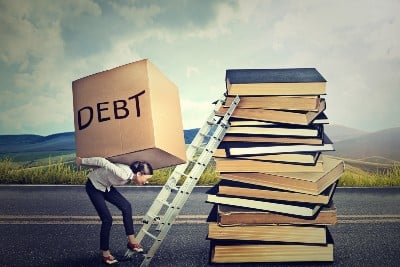 Total household debt is on the rise in 2023 – increasing by $148 billion to $17.05 trillion. Balances now stand $2.9 trillion higher than the end of 2019, before the pandemic, according to The Federal Reserve Bank of New York's Center for Microeconomic Data's Quarterly Report on Household Debt and Credit.
Report summary
Mortgage balances rose modestly by $121 billion in the first quarter of 2023 and stood at $12.04 trillion at the end of March
Credit card balances were flat in the first quarter, at $986 billion
Auto loan balances increased by $10 billion in the first quarter, bucking the typical trend of balance declines in first quarters
Student loan balances slightly increased and now stand at $1.60 trillion
Other balances, which include retail cards and other consumer loans, increased by $5 billion
Non-housing balances grew by $24 billion
Mortgage originations, which include refinances, dropped sharply in the first quarter of 2023 to $324 billion, the lowest level seen since 2014
The volume of newly originated auto loans was $162 billion, a reduction from pandemic-era highs but still elevated compared to pre-Covid volumes
Aggregate limits on credit card accounts increased by $119 billion, representing a 2.7 percent increase from Q4 2022 levels
Limits on home equity lines of credit were up by $9 billion in the first quarter
Delinquency
The share of current debt becoming delinquent increased for most debt types. The delinquency transition rate for credit cards and auto loans increased by 0.6 and 0.2 percentage points, respectively approaching or surpassing their pre-pandemic levels.
Housing debt
There was $324 billion in newly originated mortgage debt in 2023. With the pandemic-era refinance boom over and a slowdown in home sales, both refinance and purchase mortgage originations declined substantially in the first quarter.
New foreclosures remain low. About 35,000 individuals had new foreclosure notations on their credit reports, roughly in line with Q4 2022 levels.
Student loans
Outstanding student loan debt stood at $1.604 trillion in the first quarter.
Less than 1 percent of aggregate student debt was 90+ days delinquent or in default in Q1 2023, a small decline from the previous quarter.
Delinquency rates fell substantially in the previous quarter due to the implementation of the Fresh Start program, which made previously defaulted loan balances current.
The Federal Reserve Bank of New York's Household Debt and Credit Report is available for download.