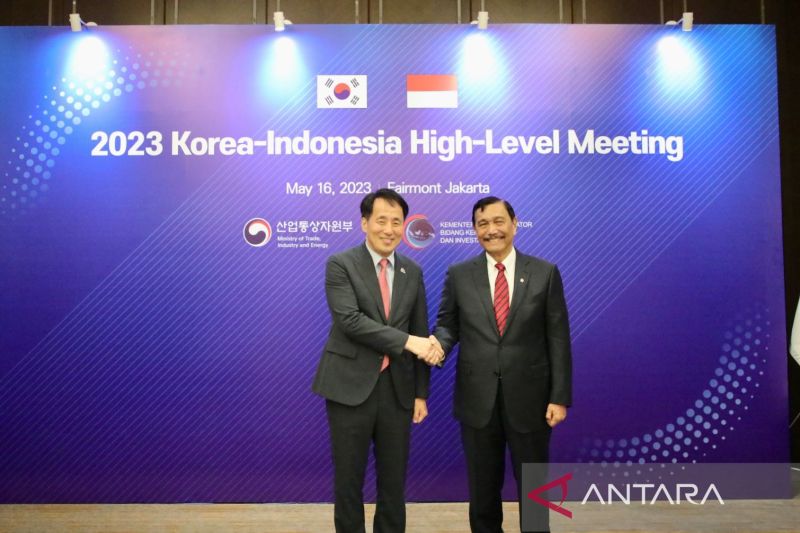 Jakarta (ANTARA) – Coordinating Minister for Maritime Affairs and Investment (Menko Marves) Luhut Binsar Pandjaitan invited investors from South Korea to enter and invest in a green industrial area in North Kalimantan.
"If you see, our biggest project is now in North Kalimantan, and we are building this now. There is a petrochemical one, maybe the biggest in the world, about 50 billion US dollars. We are happy if Korea enters there too," he stated at the Maekyung Indonesia Forum on the occasion of the 50th Anniversary of diplomatic relations between the Republic of Korea and Indonesia in Jakarta on Tuesday.
Apart from the petrochemical project, Pandjaitan stated that the green industrial area in North Kalimantan will also develop electronic alumina, with a capacity of three million tons; iron and steel, with a capacity of five million tons; a new energy battery of 265 GWh; as well as a Polycrystalline Silicon (polysilicon) industry, with a capacity of 1.4 million tons.
According to Pandjaitan, the industries built will strengthen Indonesia's economic resilience. For instance, the development of iron and steel derivatives can become raw materials for several goods, including medical devices.
Likewise, the development of batteries is projected to be able to supply up to three million electric cars, which are likely to be of interest to South Korea, due to being produced from hydropower.
"Also polysilicon for solar panel materials, up to semiconductors. Silica is abundant in Indonesia. Hence, Indonesia will play a very big role here," Pandjaitan pointed out.
The integrated green industrial area in North Kalimantan is forecast to be the largest green industry area in the world. The Indonesian Industrial Park (KIPI) area will be built on 13 thousand hectares and is prepared for the development of the electric vehicle battery industry, petrochemical factory, and aluminum industry.
Later, industries in the area will be supported by environment-friendly energy obtained from the hydropower plant (PLTA) in the Mentarang and Kayan rivers, so that the resulting products have a sustainable bargaining value.
The development of a green industrial area in North Kalimantan is estimated to require an investment of around US$132 billion. 
Related news: President Jokowi, South Korean business delegation discuss investment
Related news: Minister discusses renewable energy investment with Korean investors