Investors' fears of an upcoming downturn in the stock market have grown after Warren Buffett's firm Berkshire Hathaway dumped $13 billion worth of U.S. stocks in the first three months of the year.
For many observing Berkshire's moves, the latest decision by the firm means that Buffett, who has been nicknamed the Oracle of Omaha for his ability to guess the state of the market and make successful investments, expects the United States economy to be hit by a recession in the near future.
Many fear that a stock market crash—with shares prices dropping quickly and remaining low for some time—might be in the cards. But whether this crash will materialize depends on many still-pending factors, experts told Newsweek.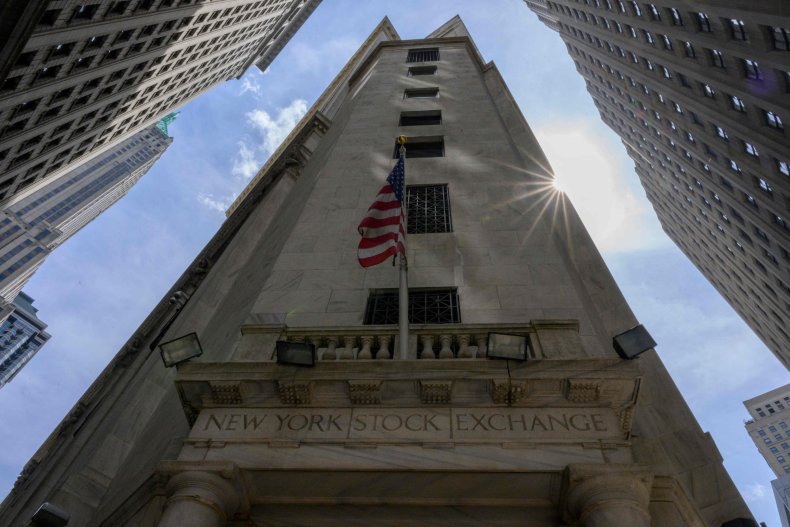 "The stock market has become 'stuck' in recent weeks as investors await answers to four key questions: Will there be a recession? Will the Federal Reserve keep hiking interest rates? Will inflation drop and will a debt ceiling breach occur?" Tom Essaye, the president of Sevens Report Research, a group that provides daily macro-market analysis to investors, told Newsweek.
"Any one of those questions is enough to determine if the stock market can rally or decline, but having all four unresolved and coming to a head in the next several months has left investors paralyzed and waiting for resolution."
According to Sevens Report Research, "the chance of a recession is high" based on time-tested market indicators, and as a result, the group "remain cautious on the outlook for the stock market simply because recessions are historically not good for stock prices," Essaye said.
"To be bullish here, and have a positive outlook, essentially an investor needs to hope there's no recession, inflation drops, the Federal Reserve starts cutting rates sooner than later, and the debt ceiling is resolved. That's not an impossible list, but it doesn't leave a lot of room for disappointment," he added.
For Essaye, a market crash is "unlikely" as the economy is still on solid footing.
"But, there remains a large amount of substantial risks for investors, and we continue to advocate for caution in the current environment because the best case scenario bullish investors are betting on isn't the most likely case," he said.
Tyler Richey, co-editor of The Sevens Report and editor of Sevens Report Technicals, told Newsweek that "based on technical analysis alone, the odds that a new bull market is in the works with the current October lows in place are rather subdued and the threat of a potentially violent bout of market volatility in the months ahead is historically elevated."
A bull market is when prices are rising or are expected to rise, while a bear market is when prices are falling or are expected to fall. Some say the bear market in the U.S. has come an end as stocks started climbing in 2023. Typically, a bull market often follows.