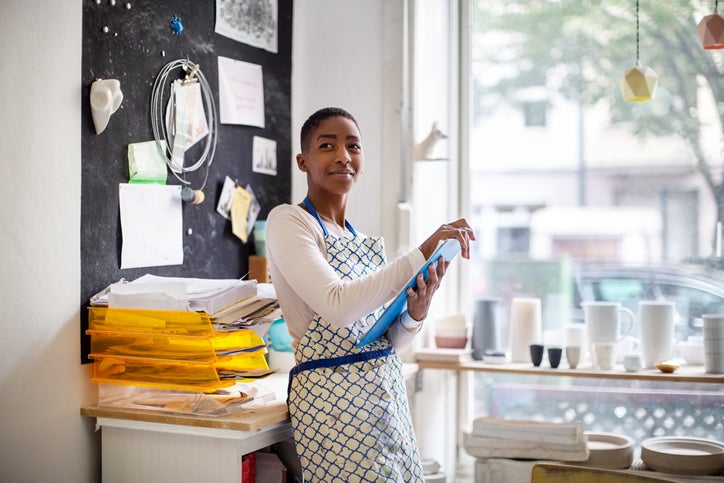 ---
Key points
Goldman Sachs has committed to investing $10 billion into Black women-owned businesses through its One Million Black Women initiative.
The goal is to address the racial and gender wealth gap and give Black women a chance to succeed.
---
Getting funding for a small business is not always an easy thing to do. Banking customers who have held checking and savings accounts for years often struggle to get approved for a loan even when they turn to the same bank they have an established relationship with.
Meanwhile, Black business owners have long experienced difficulties when it comes to getting business loans. And many female business owners have had a similar experience. So it stands to reason that the combination of being both Black and a woman might put a given small business applicant at a pretty large disadvantage.
Banking giant Goldman Sachs is seeking to change that. And now, it's introduced a new initiative that could significantly increase access to funding for Black women-owned businesses.
Positive changes are in the works
Women, and particularly women of color, have long struggled to earn the same amount of money as their male and white counterparts. In fact, Goldman Sachs points to a 90% wealth gap between Black households and white ones, which is actually pretty astonishing.
That's why Goldman Sachs has committed to investing $10 billion into Black women-owned businesses and nonprofits through its One Million Black Women program. Black women, the banking giant says, are foundational to their families and communities. They also play a huge role in the broad U.S. economy. But businesses owned by Black women have historically been sorely underfunded, and this new program seeks to address that issue in short order.
Goldman Sachs is specifically seeking to invest directly in Black women-owned businesses and supply grants to those in need. And that could have many positive impacts, such as job creation in underserved communities.
It's just the beginning for Goldman Sachs
Goldman Sachs has already identified 50 Black-women led nonprofits from across the country for an initial $10 million investment. But that's really only one piece of the puzzle. In time, Goldman Sachs plans to continue to provide financial support to Black female business owners so they can grow their companies and impact their communities in a positive way.
Small businesses are often said to be the backbone of the U.S. economy. They not only create jobs, but sustain communities by giving back.
Supporting Black female business owners can better communities, because the more built-up a neighborhood is, the more property values have the potential to rise. And once that happens, property owners get a chance to tap their home equity, which could pave the way to a world of opportunity and financial stability.
In time, ideally, more banks will jump on this bandwagon and offer support to those who have long been underserved on the business loan front. Reducing the earnings gap for Black women, says Goldman Sachs, has the potential to create up to 1.7 million U.S. jobs and increase gross domestic product by up to $450 billion on an annual basis. So that's reason enough to encourage female Black business owners to keep bringing their great ideas to the table and support their ventures with funding.
These savings accounts are FDIC insured and could earn you 12x your bank
Many people are missing out on guaranteed returns as their money languishes in a big bank savings account earning next to no interest. Our picks of the best online savings accounts can earn you 12x the national average savings account rate. Click here to uncover the best-in-class picks that landed a spot on our shortlist of the best savings accounts for 2023.