Ripple (XRP) price has displayed a rather volatile price action since late March. This came amid the woes about its case against the United States Securities and Exchange Commission (SEC). On April 19, the remittance token made a decisive move southward, dropping 15% to find a base around $0.449, psychological support offered by an uptrend line.
As bearish sentiment around XRP continued, the altcoin slumped below the ascending trendline to record an intra-day low of $0.432 on April 26. However, the altcoin found new strength after pro-Ripple attorney John E. Deaton informed the altcoin holders of a class action lawsuit hearing.
Ripple Labs Class Action:  Zakinov v. Ripple
A new hearing in the class action case against Ripple Labs christened Zakinov v. Ripple, occurred on April 26 at 1:30 p.m. PT (4:30 p.m. ET) in a federal court in California.
The hearing focused on oral arguments concerning the certification of the class of XRP holders suing Ripple. Notably, the case was accessible to a limited public, with the judge opening online access for 500 members of the public to attend the hearing. The case, originally filed in 2020, involved plaintiff Bradley Sostak, the owner of XRP, for a brief 14-day period.
In the case, Sostak wanted to be named lead plaintiff and be the main representative for all XRP holders who either owned or traded the remittance token during the relevant period. This group was slamming Ripple and holding the belief that XRP is a security.
NOTICE to XRP Holders:
Tomorrow (Wed., April 26) at 1:30pm PT (4:30pm ET) a hearing will take place in federal court in CA on the class action case filed against @Ripple (In Re Ripple Labs/Zakinov v. Ripple) from 2020.

(1/3) The judge has opened online access to 500 members of… pic.twitter.com/h8z0jyCIsF

— CryptoLaw (@CryptoLawUS) April 25, 2023
The class action lawsuit also claims that Ripple Labs participated in an illegal securities offering of the XRP token. The result of this securities law violation was financial harm to investors.
In a separate but related development, Ripple lawyer John E. Deaton filed a motion for leave to submit an amicus brief on behalf of over 75,000 XRP token holders. Deaton's goal is to ascertain that the voices of these users are heard before the court as they continue hoping that the case outcome may have significant implications for their holdings.
While the court is yet to rule on Deaton's motion, the outcome of this hearing will certainly set a precedent for future cases concerning crypto companies and their treatment of digital assets.
How The Hearing Could Affect XRP Holders
Two separate groups of XRP holders watched the proceeding intently. One sided with Ripple in its lawsuit against the SEC, and the other slammed the firm with a class action lawsuit. The court's decision will likely affect both sides and the entire community of XRP holders.
Notably, the lawsuit bears certain components akin to the SEC's litigation against Ripple. Because of this, the judge's determination on whether Ripple should be prosecuted for its primary and secondary sales of the (Security or Non-security) XRP tokens would influence Ripple price and its holders' sentiment.
At the time of writing, Ripple price has shed almost 3%, but bullish momentum remains strong. The lawsuit will likely drag on for several weeks or months before a final judgment.
In the Zakinov vs. Ripple case, the judge just agreed to extend the trial by about a month with trial starting on April 15 2024. The original lawsuit was filed in May 2018. That would be 6 years until trial would start at all. But the laws and rules are clear since 1933! It will… pic.twitter.com/7ud7VwMIEx

— Mr. Huber🔥🦅🔥 (@Leerzeit) March 24, 2023
Ripple Price Could Rise 20% If This Accumulation Pattern Continues
Ripple price has been consolidating along an uptrend line since early March, keeping investors' holdings in good standing. For as long as the price continues to move above this ascending trendline, XRP's market value is bound to increase.
The uptick draws support from the resurgence of a new cohort of investors, presumably those who had been sidelined. Their entry point appears to be the 50-day Simple Moving Average (SMA) at $0.462, as it was after flipping this hurdle into a support level that Ripple price recorded a green candlestick.
An increase in buying pressure above this level could see Ripple price ascend and tag the immediate barricade at $0.480. Further north, the remittance token could extend a neck toward the $0.520 resistance level or tag the $0.558 resistance level in highly ambitious cases. Such a move would denote a 20% increase from the current price.
Notably, the altcoin enjoyed significant downward support presented by the 200- and 100-day SMAs at $0.427 and $0.413, respectively. These were possible areas for bullish momentum to revitalize before a continued uptrend.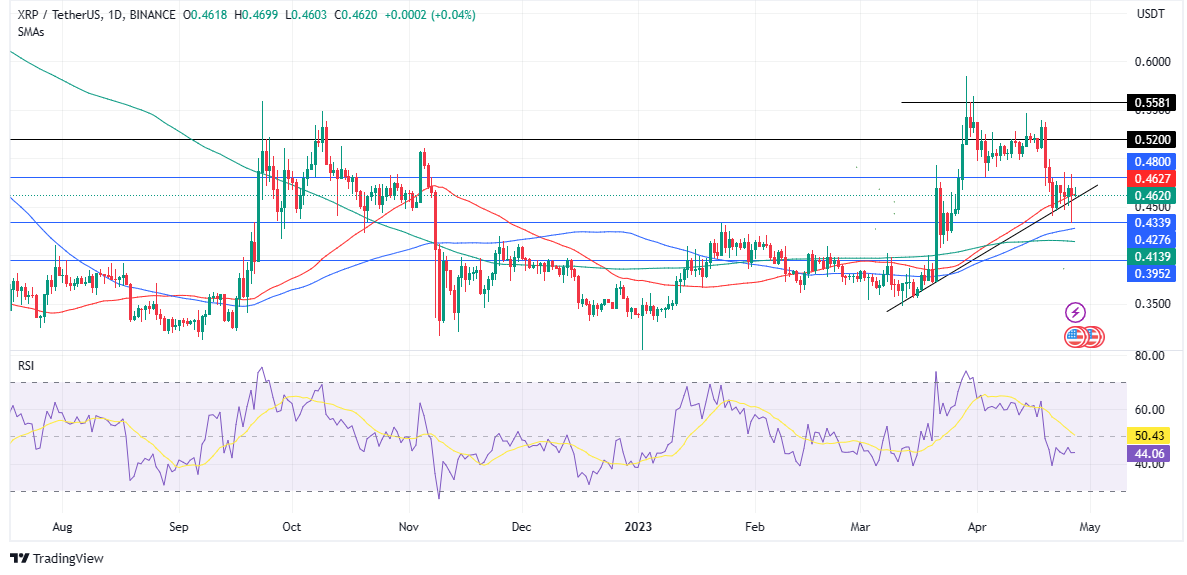 Conversely, if sellers overpower the bulls, the Ripple price could drop below the uptrend line. A decisive candlestick close below the $0.433 support level could invalidate the bullish thesis. Further south, the altcoin could break below the SMAs and tag the $0.395 support level.
The Relative Strength Index (RSI) position at 44 and below the mean line supported the bearish case, suggesting bears were showing more energy than bulls. Nevertheless, given that the RSI had just tipped upward, the bulls were clearly putting in a good fight.
XRP Alternative
Shift your gaze from Ripple price and consider DLANCE, the ticker for the DeeLance ecosystem. Released in March, it is a next-generation freelancing and recruiting platform uniquely delivering decentralized Web3 technology. The project aims to become the future of freelancing, given its ability to revolutionize how freelancers link with potential buyers on the Metaverse and Web3 spaces.
▪️@deelance_com is an all in one blockchain ecosystem building the future of freelancing & recruitment!

The platform looks promising with its low commission rates & the vast community support.🦾$DLANCE presale↘️https://t.co/IR8YcByhsz

Join their TG💬https://t.co/KlgXA2zDMe pic.twitter.com/SEvBMcZEJC

— Whale Coin Talk (@WhaleCoinTalk) April 22, 2023
The project is in the presale stage and has already raised upwards of $487,356 USDT. With just under three weeks to the next stage, now is the best time to buy DLANCE.
Exciting News DeeLancers!👨‍💻$DLANCE is now TRENDING on Reddit! 🚀🙌https://t.co/8yKF6MWUiT

Presale is live – grab some $DLANCE now!⬇️✨https://t.co/XHnTqVzMLN#Reddit #crypto #token $DLANCE pic.twitter.com/VX1P6dpNIF

— DeeLance (@deelance_com) April 25, 2023
DeeLance is a freelancing and recruitment platform using Blockchain Technology. The decentralized platform has revolutionized how freelancers connect with potential employers. Among its key highlight features include simplicity, convenience, and that it presents a decentralized system without relying on intermediaries. Owing to these unique characteristics, this innovative project is a positive development for the freelance industry.
Further, the DeeLance ecosystem is developing an interactive non-fungible token (NFT)-powered metaverse platform that will bring businesses and freelancers together. Observers have already passed it as a revolutionary project set to transform the recruitment industry.
Read More:
DeeLance – New Web3 Coin Presale
First Decentralized Freelancing Network
Find Employers in the Metaverse
NFT Marketplace, $100k Giveaway
Presale Stage One Live Now
SolidProof & Coinsult Audited