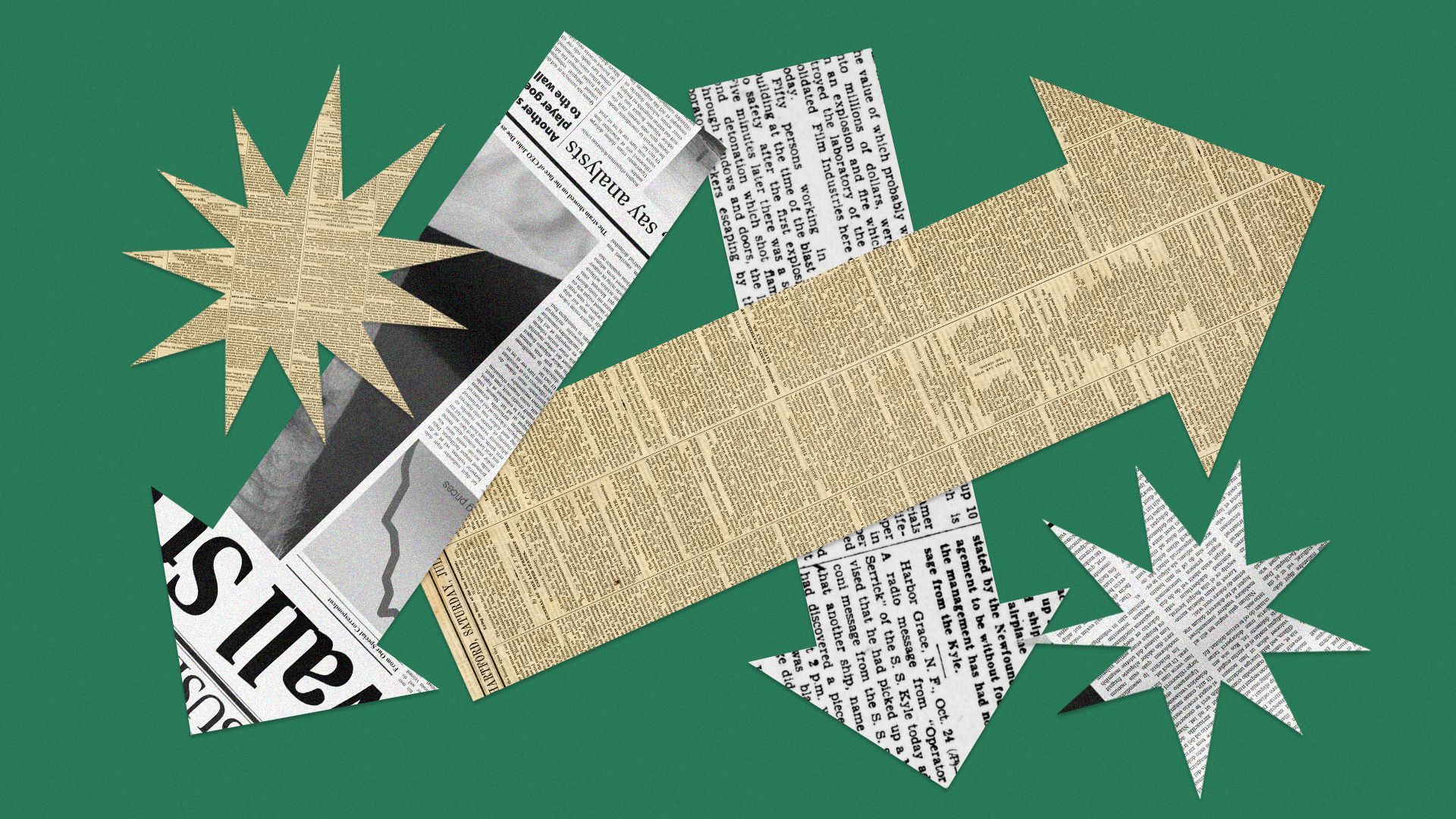 Photo illustration: Annelise Capossela/Axios. Photos: FPG, Heritage Art/Heritage Images via Getty Images
This past Wednesday's action in the economy and markets was less than earth-shaking. But it tells us something important about how the intersection of the economic, political, and financial is changing in 2023.
After surprisingly weak retail sales and industrial production numbers two days ago, stocks fell and bond prices rose. That's what you would expect in normal times, but it reflects a big shift from 2022's upside-down dynamics.
Why it matters: Investors are now laser-focused on what will happen to growth and think the Federal Reserve is returning to its normal footing, in which economic weakness will translate to easier monetary policy.
In other words, good news is good again and bad news is bad, unlike much of the last year when all economic news was refracted through inflation and the implications for Fed tightening.
Investors increasingly think a deteriorating economy is likely to damage earnings for companies. That's bearish for stocks, while also making it more likely the Fed will back off its monetary tightening campaign.
By the numbers: Over the last five trading sessions, the correlation between the move in stocks and bonds (using the ETFs with the tickers SPY and TLT respectively) has been negative 0.87; good days for stocks have almost perfectly coincided with bad days for bonds, and vice versa.
That correlation was positive for most of last year, reaching as high as 0.85 for a five-day span in mid-November.
Between the lines: The Fed has shifted to a more nuanced policy approach than what prevailed in 2022, likely including a mere quarter-point rate hike at a policy meeting in two weeks.
Most of last year consisted of the central bank ratcheting up its rhetoric and tightening its policy as inflation kept coming in hot. But with inflation coming down and the economy seemingly slowing, there are plausible pathways in both directions.
This was evident in vice chair Lael Brainard's speech on Thursday, where she paired some standard-issue tough talk about inflation ("we are determined to stay the course") with a thorough accounting of the evidence the economy is slowing and prices are cooling.
"Inflation has been declining over the past several months against a backdrop of moderate growth," Brainard said, adding that this week's industrial production points to "a significant weakening in the manufacturing sector." Retail numbers point "to a further moderation in consumer spending," she said.
The bottom line: Maybe this will be a terrible year for the economy and markets. Or maybe it won't be so bad. But either way, relationships that broke in 2022 between stocks, bonds, Fed policy, and the real economy may be back.