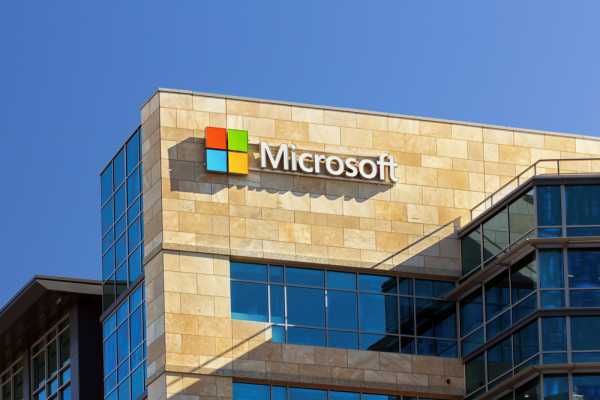 The major U.S. stock indexes settled mixed in the cash market on Tuesday, but futures moved higher after the bell after Microsoft reported an earnings beat as its cloud unit showed strong growth.
The Dow was up at the cash market close, but the S&P 500 and NASDAQ Composite settled lower. However, all three moved higher in the after-hours future market with Microsoft fueling the gains. The software giant is a component of each major index.
Microsoft Beats on Earnings as Cloud Unit Shows Strong Growth
Microsoft shares rose as much as 5% in extended trading on Tuesday after the company reported fiscal second-quarter earnings that topped analysts' estimates.
Earnings came in at $2.32 per share, adjusted, versus $2.29 per share as expected by analysts, according to Refintiv.
Revenue was $52.75 billion, versus $52.94 billion as expected by analysts, according to Refintiv.
Microsoft's total revenue increased by 2% year over year in the quarter ending Dec. 31, the slowest rate since 2016, according to a statement. Net income fell to $16.43 billion from $18.77 billion in the year-ago quarter.
The company took a $1.2 billion charge in the quarter in connection with its decision to cut 10,000 jobs, revise its hardware lineup and consolidate leases. The charge includes $800 million in employee severance costs, CNBC reported.
Revenue in Microsoft's Intelligent Cloud segment amounted to $21.51 billion, up 18% and slightly above the $21.44 billion consensus among analysts polled by StreetAccount.
"We are focused on operational excellence as we continue to invest to drive growth," Amy Hood, Microsoft's finance chief, said in a statement.
Other Stocks Making Big Moves After Hours
Capital One dipped more than 1% in extended trading after the company posted an earnings miss. The financial company reported net income per diluted common share of $3.03 in the latest quarter, compared to $3.87 expected by analysts polled by FactSet. Total net revenue of $9.04 billion is slightly below the $9.07 billion estimate, CNBC reported.
Texas Instruments rose under 1% in extended trading after the company reported quarterly results that came in above expectations. The chip company reported earnings of $2.13 per share, beating expectations of $1.98 per share, according to FactSet. Revenue also came in above analysts' estimates.
Canadian National Railway saw its shares dip more than 4% in extended trading, even as its quarterly results beat expectations, CNBC wrote.
The company reported an EPS of 2.10 in Canadian Dollars, compared to FactSet's estimate of C$2.08. Revenue of C$4.54 billion was also higher than the C$4.49 billion forecasted by analysts.