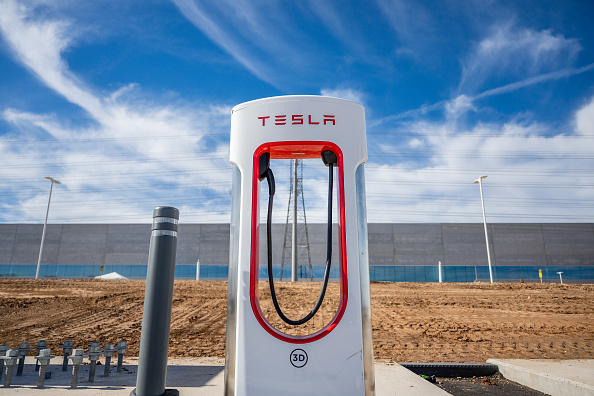 Overview
Tesla, Inc. (NASDAQ:TSLA) has fallen in price by more than 60% in the last year. The question for investors is if this is a reasonable reset in light of Tesla's phenomenal growth over the last 10 years.
By way of comparison, note that the S&P 500 (SP500) was only down 15% over the same period of time.
For the 10-year period, Tesla's price is still up almost 5,000% even after the 63% collapse over the last 1-year period.
In this article, we will look at Tesla's prospects for the next year to try and determine the price direction out to 2024 as compared to the last year.
TSLA Stock Key Metrics
If we look at Tesla's financial metrics comparing the latest TTM (Trailing Twelve Months) with the previous year, we can make a reasonable comparison of today's value versus last year's value. Once we have done that comparison, we will make an attempt to see how the coming year may play out.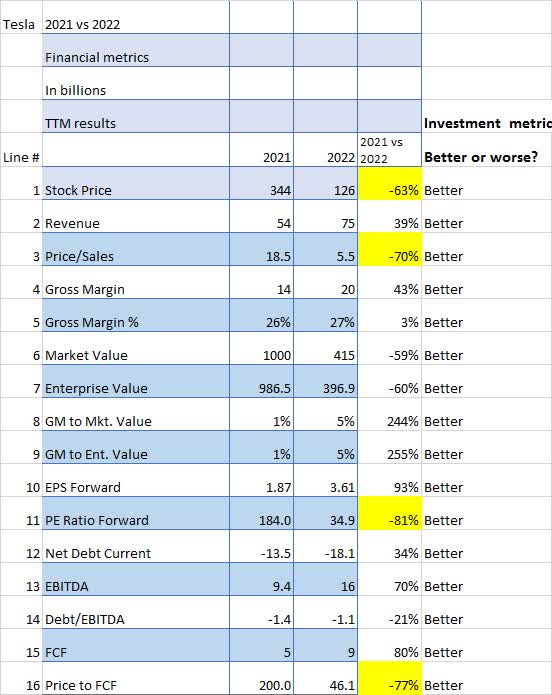 One quick look at the financial metrics table above comparing 2021 to 2022 shows 100%, 16 out of 16, metrics show 2022 to be better than 2021 from an investment standpoint.
I have highlighted in yellow the items I consider the most important in terms of magnitude compared to the other items.
As we have already noted, Tesla's price (Line 1) has fallen by 63% over the last year, and that in and of itself is indicative of a potential bottoming bargain. But when we look at the Price/Sales ratio (Line 3), it may be an even better indicator of value and it is down 70%. Tesla's Price/Sales ratio is now about the same as Apple's, which seems more than reasonable since Tesla has grown its revenue by 500% over the last 5 years compared to Apple Inc.'s (AAPL) 59%.
Tesla has had an elevated P/E ratio (line 11) forever, but now it has dropped to an almost reasonable 35x.
And lastly, the Price/FCF (free cash flow) (line 16) has dropped 77%.
Add to that the Net Debt position shows an $18 billion cash balance, i.e., more cash than debt by a big margin.
Why Did Tesla's Share Price Drop In 2022?
Tesla's share price drop has many causes, not the least of which was the tech market slide shown by the Invesco QQQ ETF (QQQ) down 23% over the last year.
Since Tesla was down 66% over that same period, obviously there were other items affecting Tesla's price.
With huge electronics component requirements for its products, Tesla was adversely affected by the various and sundry "chip shortages." Add to that the logistics problems that plagued the world last year, Tesla may have been hit harder than most.
But I think the biggest issue was Elon Musk's obsession with his Twitter takeover which dominated the news for months but now appears to be less important. That is a big plus for Tesla investors.
Here is the price return chart for the last 12 months. Note the date April 5, 2022, when Musk announced he had purchased his first tranche of Twitter shares.
The price appears to go straight down from that date, although the other mitigating factors certainly affected the drop to some degree.
What Are Recent Price Targets?
Market Beats has price targets from several sources, and all of these are from January 2023.
Note that all the targets except Bank America's $135 exceed $200.
The fact remains that consensus price targets have come down from $298 to $218 over the last year but still remain above $200.
So to answer the question asked in the title of this article, yes, Tesla can recover well beyond $150.
What Do Analysts Think?
Wall Street and Seeking Alpha analysts are very positive on Tesla with 43 Buys versus only 10 Sells. Among those buy recommendations are 18 Strong buys, a very high number.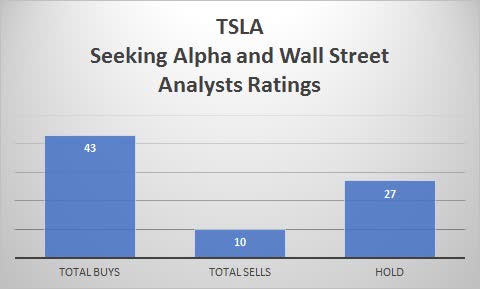 However, quants are much more subdued with a consistent Hold rating over the last year.
Is TSLA Stock A Buy, Sell, or Hold?
There have been many problems in the electric vehicle ("EV") business over the last year including chip shortages, logistics problems, and the ever-increasing costs associated with the minerals (lithium, cobalt, nickel, copper, etc.) needed to manufacture batteries.
And many problems are unique to Tesla, especially concerning its founder Elon Musk.
But there can be no doubt that the future is EVs, and Tesla will have a significant share of that market.
Per the above quote, EV sales will grow by 900% by 2030 just in the U.S.
Although Tesla had record unit sales of more than 405,000 in the 4th quarter, that was below analysts' expectations of 432,000. This has led Tesla to lower prices significantly, including a 15% discount on the Model S Plaid.
Perhaps more importantly the Model Y price was lowered by 20% to $52,990, making it eligible for the new $7,500 tax credit. Prices were also lowered in China, Japan, Korea, and Australia.
But despite all the analyst's angst, Tesla unit sales were up 40% from 2021 to 2022. Units sales up by 40%, while the share price is down 63%, seems like a prime buying opportunity to me.
And Elon Musk thinks Tesla's sales volume may increase due to the expansion of Tesla's product lines:
What is quite exciting, however, is that Tesla is nowhere near done. Elon Musk teased in his Master Plan, Part Deux that Tesla would be expanding its lineup to cover all the major forms of terrestrial transport. This suggests that vehicles such as delivery vans, high-capacity people carriers, and high-volume affordable cars are likely coming in the near future. Source: teslarati.com
So in spite of what may be a problematic 2023, Tesla's bright future would be hard to deny. And at the current depressed price, this is an opportune time to invest.
Tesla is a Strong Buy for long-term investors.